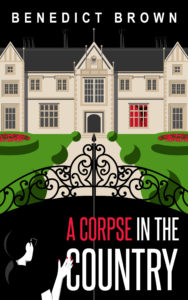 One murdered millionaire, seven suspects and only forty-eight hours to work out whodunit.
When Izzy Palmer is called to the Vomeris estate to investigate the death of a super-rich financial tycoon, it's not just the hundred-grand pay cheque that convinces her to take the job. It's her long-held ambition to investigate a country house mystery, all she has to do now is find the killer.
Underachiever, playboy, golden child, vamp and waif – each of the victim's heirs had a reason to want their miserly father out of the way. They all have truths to hide and lies to tell, but which of them stuck the knife in? Unless, of course, the butler did it.
Izzy will need to call on everything that her obsession with detective fiction has taught her to uncover the secrets of Vomeris Hall and the eccentric family who live there.
"A Corpse in the Country" is the second book in the Izzy Palmer series. It's another fast-paced and funny murder mystery that delivers a contemporary spin on the golden-age crime novel. If you like the intrigue of Agatha Christie mixed with the humour of Helen Fielding, then Izzy is the detective for you.
As an Amazon Associate I earn from qualifying purchases.