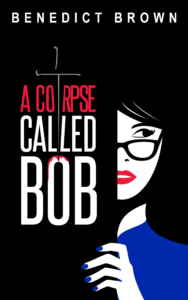 Miss Marple meets Bridget Jones in a fast and funny new detective series with a wicked resolution you'll never see coming.
Nobody at work liked Bob Thomas, but who hated him enough to finally do him in?
When Izzy Palmer finds her much loathed boss stabbed to death in his office, she's convinced she's the only one who can solve the case. Izzy is a crime fiction devotee, a life-long fan of whodunits and she's determined to find the killer. Okay, the police have zero interest in her help, her best friend is acting super suspicious and she might sort of, possibly be falling for one of the suspects, but she won't let any of that get in her way.
Will a detailed knowledge of every golden-age crime novel be enough to identify the murderer or could Izzy end up as the next victim? "A Corpse Called Bob" combines all the intrigue of a classic Agatha Christie with the wit and warmth of Helen Fielding. Find out why readers on Facebook have described the book as, "everything you could want in a murder mystery – smart, great plot, incredible characters and hilarious to boot."
As an Amazon Associate I earn from qualifying purchases.